Between Polemics and Criticism:
The Periodicals of August von Kotzebue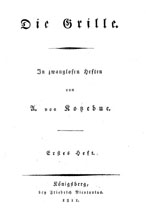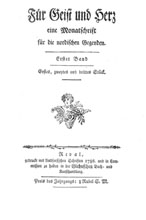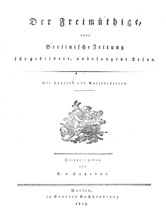 The Periodicals of August von Kotzebue
Complete Edition:
8 periodicals with a total of 39,329 pages on 307 microfiches, 1997, ISBN 3-89131-230-X
Silver (negative): EUR 2,796.–
The complete edtition contains the following periodicals, which can also be purchased separately:
Für Geist und Herz 1786
1,227 pages on 13 microfiches, 1997, ISBN 3-89131-237-7
Diazo (negative): EUR 120.– / Silver (negative): EUR 144.–
Der Freimüthige 1803 – 1811
10,062 pages on 113 microfiches, 1997, ISBN 3-89131-231-8
Diazo (negative): EUR 620.– / Silver (negative): EUR 744.–
Die Biene 1808 – 1810
2,676 pages on 19 microfiches, 1997, ISBN 3-89131-232-6
Diazo (negative): EUR 200.– / Silver (negative): EUR 240.–
Die Grille 1811 – 1812
1,154 pages on 7 microfiches, 1997, ISBN 3-89131-233-4
Diazo (negative): EUR 120.– / Silver (negative): EUR 144.–
Erheiterungen 1811 – 1827
19,560 pages on 104 microfiches, 1997, ISBN 3-89131-234-2
Diazo (negative): EUR 1,190.– / Silver (negative): EUR 1,428.–
Politische Flugblätter 1814 – 1816
676 pages on 4 microfiches, 1997, ISBN 3-89131-238-5
Silver (negative): EUR 96.–
Literarisches Wochenblatt 1818 – 1820
3,090 pages on 37 microfiches, 1997, ISBN 3-89131-235-0
Diazo (negative): EUR 220.– / Silver (negative): EUR 264.–
Hekate 1823
884 pages on 10 microfiches, 1997, ISBN 3-89131-236-9
Diazo (negative): EUR 100.– / Silver (negative): EUR 120.–

Compared to the classical literates and poets of the 18th and 19th century – Goethe, Herder, and the brothers Schlegel – the dazzling figure of August Friedrich von Kotzebue (1761-1819) seems to have fallen into oblivion. The dramatist and editor Kotzebue has often been treated as an author of light fiction. His work has been both valued little and respected highly. With his sharp polemics, which were adopted in many places, Kotzebue helped speeding up the development of a general literary discussion at his time.
During the Napoleonic rule Kotzebue criticised the Francophile attitude of his contemporaries and colleagues. His literary and political polemic written during the early years of the 19th century assembles a kaleidoscope of the currents of the time which, back then, had often been held back or neglected by literary scholars.
The beginning of Kotzebue's career as an editor and publisher of various periodicals was marked by four volumes of «Für Geist und Herz» («For Mind and Heart»). After having publicly compromised Goethe in Weimar and a short stay in Paris, Kotzebue established «Der Freimüthige» (1803-1811), through which he continued his private war with Goethe. Until 1806, Garlieb Merkel signed as co-editor, and the periodical was soon established as a leading mouthpiece for the public throughout Berlin. Directed against Romanticism and the Weimar School of Poets the periodical employed many national and international correspondents. Short notices and articles on art, literature, and politics were written by well-known critics such as Ludwig Ferdinand Huber. In 1807, the periodical was forbidden and did not appear for one year. After that it came out again, this time under the leadership of August Kuhn.
Napolen's victory and defeat (1806/13) marked the establishment of yet two more periodicals which Kotzebue published while in exile in Estonia: the «Biene» («Bee»; 1808-1810), and its successor, the «Grille» (the «Cricket»; 1810/11). They both can be considered a political document of the conflict against Napoleon.
Interspersed with many allusions to the political and social situations of the time the articles of the «Biene» emphasize Kotzebue's versatile talent as a writer. Seen as a collection of historic and geographic essays, accounts, anecdotes, and humorous causeries the periodical met the public's desire for entertainment at the time without risking to lose the paper's political aim. The «Grille», on the other side, avoided any polemic attack on Napoleon. It can be seen as a continuation of the «Biene» what its content is concerned. However, while the «Biene» had issued political criticism, the «Grille» focused more on literary reviews.
The monthly magazine «Erheiterungen» (1811-1827), which first appeared in 1811 in Aarau, was meant to offer pleasant reading. Its publishers – Kotzebue, Karl G. Grass, Joseph v. Ittner, and Heinrich Zschikke – were interested in an entertaining variety of poems, anecdotes, descriptions of travels, and biographical essays.
Only a short appearance had yet another periodical: the «Politische Flugblätter» («Political Broadsheets», 1814/15).
In 1817 Kotzebue returned to Weimar for the last time. One year later he founded the «Literarisches Wochenblatt» («Literary Weekly»; 1818-1820), which appeared under his editorship until his death on March 23, 1819. It focused on literary reviews, biographical sketches, portraits of important people of this time, and news about art and theatre. Also included were summaries of various essays which had been published in different national and international magazines.
The title of «Hektate», appearing in 1823, read «Kotzebue's Shadow» as the editor of the periodical. Because of its descriptions of journeys, its reviews about literature and theatre as well as its cultural news this periodical has often been compared with the «Literarisches Wochenblatt». Adolf Müllner thus posthumously ended the work of his friend.
As controversial as Kotzebue has been – his contemporaries could not manage to completely ignore him. Even today, Kotzebue's dramatic writings as well as his periodicals are of importance when studying the literary life of that time.