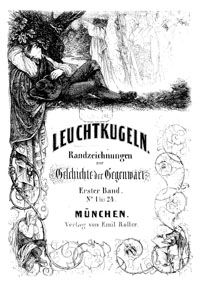 Leuchtkugeln
München/Quedlinburg 1847 – 1851
1,452 pages on 16 microfiches, 1998, ISBN 3-89131-283-0
Diazo (negative): EUR 140.– / Silver (positive): EUR 180.–
If one were forced to name the best German satire magazines of the years around 1848/49 – even if this may seem to be a task not particularly enlightening or sensible – one such publication in particular would very likely make it at least to the final round: the Munich leaflet Leuchtkugeln. Due as much to its extremely accurate texts as to its eminently fashioned caricatures, the leaflet belongs without question to the category of the most outstanding works offered up by the authors and artists – eager for progress and desirous of change – of those years. The Leuchtkugeln were shot from Munich into agitated revolutionary skies of Germany: from Munich, a city which was in respect of such movements more usually a place of restraint and conservatism. In other words, these leaflets were observed and pursued by the police at all times, constantly threatened by the censor, and more than once suppressed. Thus they managed a publication life of a mere half-decade. From 1847 to 1851 they appeared at first three times a week, slowing then to once a week, each issue at eight pages. The excellent editing of Alexander Ringler and Emil Roller, two well-known and experienced journalists who were both caught-up in a large number of press suits, gave the leaflet an extremely sharp and shrewd turn of phrase. This they disguised under the inconspicuous-sounding and designed-for-the-eye-of-authority subtitle «Peripheral sketches of the history of the present».
In the middle of the year 1851, however, as was to be expected, the Leuchtkugeln were indeed brought before a panel and prohibited absolutely. Those seven volumes of 24 issues each which had already been published were presumed until now to be the entirety of the Leuchtkugeln. However, it has in the meantime been discovered that this is not the case. An eighth volume had been briefly begun and ultimately broken off, but it was to be found, and was, after a short pause, to be found under new editorship in Quedlinburg (i.e. far away from Munich). These long unknown thirteen issues of the absolute last volume of the Leuchtkugeln did not produce a specially printed programme of their journalistic intentions: the pictures and texts must speak for themselves ... and they do. The issues of this leaflet yield – individually and taken as a whole – a considerable panorama of, and exceedingly important surce for, the beginning, the high points, and the end of a German revolutionary uprising ... or, shall we say, a rising revolution. This constitutes a collection of materials of an amused as well as reflected tone, bearing a witness to the voices, opinions, and intentions of those contemporary liberals which is still impressive today. A richer and more precise and accurate record could hardly be imagined.
Among the names of those contributors who went on to more renown are to be found such as Roderich Benedix, Ferdinand Freiligrath, Friedrich Hornfeck, Ludwig Kalisch, Theobald Körner, Gottfried Kinkel, Rudolf Marggraff, Alexander Ringler, Hermann Rollett, Ludwig Seeger, and August Silberstein.
Alfred Estermann