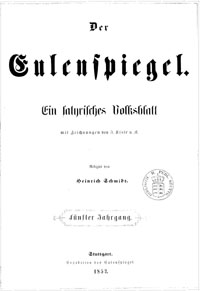 Eulenspiegel
Stuttgart (1848 – 1853)
Der wieder auferstandene Eulenspiegel/Eulenspiegel Stuttgart (1862 – 1863)
Inserts: Stuttgarter Wochenblatt 1863; Stuttgarter literarisches Wochenblatt 1863
together 1,627 pages on 18 microfiches
ISBN 3-89131-281-4, 1998
Diazo (negative): EUR 140.– / Silver (positive): EUR 190.–
The Eulenspiegel is without question one of the best written and illustrated political satire periodical which the various rebellions, uprisings, and reformations under the general heading of »revolution« elicited Germany in the years 1848/49. As much in terms of its sharp, laconic, precise articles as in terms of its incredibly concise, high-class caricatures, the pamphlet must be ranked among the top satire periodicals of those years. It was published in Stuttgart, in south-western Germany, which was known to be closely linked with that «revolution» through various movements, progress-experiments, and attempted coups. In terms of its subject matter, the Eulenspiegel concentrated first and foremost on regional politics from Baden and Württemberg, but did not therefore neglect contemporary events in Germany great and small: the life of the upright »little man« and that of the incincere »big man« were subjected alike to its mocking fun-house mirrors.
The state authorities described the Eulenspiegel at first in a tactfully understated and precautionary manner, as a presumably harmless »People's Joke and Caricature Pamphlet«. It gained gravity, however, in 1850, when the authorities began to call it a »Satirical Folk Pamphlet«. The Eulenspiegel came out regularly every week from the beginning of the year 1848 until August of 1853, each issue having four pages, as was usual with such publications. Responsible for the production of the superbly prepared pamphlet were on the one side the author Ludwig Pfau, and on the other side the artist Julius Nisle – from whom the greater part of the illustrations also issued – both resounding names in the Swabian ambiance. Naturally, these two had to suffer much under the heavy hand of the police and the censors; such contents as their paper bore made that situation quite unavoidable. Again and again, articles appeared which were contrary to law or ordinance, and not a few issues were confiscated and had to be replaced by altered, more mild and acceptable second or even third printings. Despite all this, the Eulenspiegel survived the end of the »revolution« and even the beginning of the »reaction«'s growing strength. It was not until 1853 that the leaflet which played with all the forms of contemporary progressive satire was definately prohibited, and that leaflet today provides source material of amazingly untouched freshness.
A later edition of the paper, the Newly Resurrected Eulenspiegel, managed to publish for two and a half years (between 1862 and 1864), under the editorship of Emil Ebner. In the end, it reverted to its old title, but in changed political surroundings – far removed from the beautiful ideals and dire troubles of the »stormy years«. It had grown tamer, but was in no way one of those mere common pamphlets which had jumped onto the satirical bandwagon: it remained an extremely impressive witness of its times.
Alfred Estermann