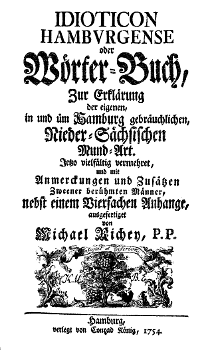 Historical Vernacular Dictionaries of German Speech Areas
(Archive of European Lexicography, 2: Dictionaries; 18)
135 works with a total of approx. 48,000 pages
Online
2010, ISBN 978-3-89131-519-4
Purchase: EUR 5,040.–*
Annual License: EUR 504.–*
Online Edition
Microfiche Edition
594 microfiches, 2001, ISBN 3-89131-379-9
Silver negative: EUR 5,040.–*
Catalogue
This edition represents regional dictionaries mainly edited by local people for example from the Taubergrund, the Lechtal, the Oder-Bruch, from Eupen, Gröden or from Elbing. Since this kind of literature was generally released by the author himself or by smaller, local publishing companies and had a local circulation only, these works are not easy to be found and are often unique copies.
The authors usually were teachers, priests or public officials who grew up being familiar with the dialect and who were thus acquainted with the meanings of the individual words. Less reliable, but interesting from an historical point of view are their – mostly very detailed – etymologies.
Not only the lexical parts of the edition but also the prefaces are very informative. They not only answer numerous fundamental questions on lexicography but also provide the reader with valuable methodological and historical references regarding the origin of individual words or the dialect's characteristics.
About a dozen of the dialect dictionaries represented in this edition date back to the 18th century, beginning in Northern Germany with Richy: Hamburg (1754), Strodtmann: Osnabrück (1756), Tiling: Bremen und Niedersachsen (1767ff.), Bock: Preussen (1759), and Dähnert: Pommern, Rügen (1781). The first Upper German dictionaries appeared a few decades later: Zaupser: Bayern (1789), and Schmid: Schwaben (1795).
The revision of local language material reached its climax after the publication of the landmark works by Grimm: Deutsche Grammatik (1819–1837) and Schmeller: Die Mundarten Bayerns (1821) during the second half of the 19th century. More than half of the works in this edition go back to the period between 1850 and 1900.
The emergence of vernacular dictionaries was not only favoured by linguistic impulses but also by a growing interest in local history beginning in the 19th century.
The works of Staub/Tobler: Schweizerisches Idiotikon (1881ff.), and Fischer: Schwäbisches Wörterbuch (1901ff.) mark the beginning of a new aera in the research of dialects: large dictionaries – compiled by academics and state-sponsored – claimed recognition and thus superseded works on linguistic microcosms.