The Trew Letter Collection
19,000 letters from 2,200 authors of the 16th, 17th and 18th century
Catalogue by Eleonore Schmidt-Herrling:
Die Briefsammlung des Nürnberger Arztes Ch. J. Trew in der Universitätsbibliothek Erlangen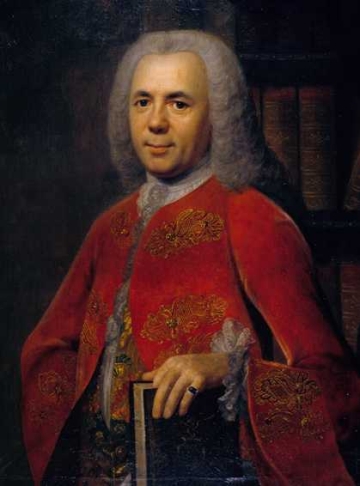 Online
2007, ISBN 3-89131-528-7
1. Standard license:* EUR 17,000.– (excl. VAT)
2. Workstation license (2-10):* EUR 4,200.– (excl. VAT)
3. Workstation license (1):* EUR 2,200.– (excl. VAT)
Online Edition
Microfiche Edition
3,204 microfiches, 2006, ISBN 3-89131-477-9
Diazo negativ: 8.900,– (excl. VAT)
mit 25% Sonderrabatt: 6.675,– (excl. VAT)
Silber negativ: 10.680,– (excl. VAT)
Prices and license options subject to change without prior notice.
The letter collection of Christoph Jakob Trew
Christoph Jakob Trew's (1695 – 1769) collection of letters is the largest known collection of letters with an emphasis on medicine and science and one of the largest collections at all in Germany. It contains about 19,000 letters and drafts from 2,200 authors from the 16th till the 18th centuries, amongst them many great minds who are still well known today: polymath pioneers from medicine and its neighbouring sciences such as Ulisse Aldrovandi, Carolus Clusius, Johannes Crato or Conrad Gesner, but also the theologian Johannes Calvin or the poet and natural historian Albrecht von Haller. The views into the history of science of the early modern period offered by the collection are as varied as the addressers and addressees. The contemporary world of ideas of surgery and anatomy, of zoology and botany become just as palpable as the everyday reality of medical practice and natural historical research. «This collection of letters will have to be consulted by everyone who concerns themselves with the history of medicine and science of this period», stated the head of the University Library Erlangen-Nürnberg in the catalogue which was published in 1940. The University Library Erlangen-Nürnberg has been the home of the immense Trew inheritance since it was transferred to Erlangen from the dissolved University of Altdorf in 1818.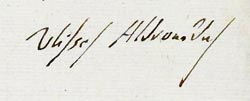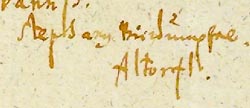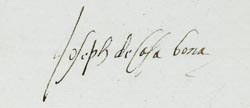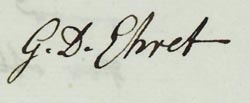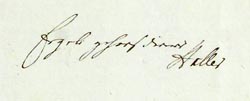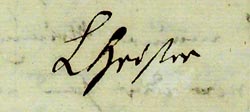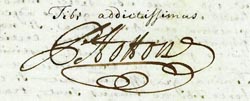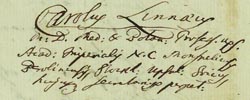 The material included 34,000 books which Trew had brought together out of the obviously inexhaustible income of his medical practice to form one of the largest natural science libraries of the 18th century. Taken all together Trew's collection provides a unique picture of the state of medicine and science in the early stage of the enlightenment.
Christoph Jakob Trew: A wealthy Physician and Researcher
Christoph Jakob Trew, who was born the son of the town apothecary in Lauf, studied medicine in the neighbouring town of Altdorf. After receiving his doctorate with a highly praised thesis under the supervision of Lorenz Heister, one of the most important physicians of the age, the young doctor travelled throughout Europe from 1717 to 1720 and met on his travels the leading scholars. From Paris to Amsterdam and from Lausanne to Königsberg he browsed the libraries and natural science collections, which further increased his curiosity in natural science and his interest in book collecting.
The news that his doctoral thesis supervisor had left Altdorf and that his chair was vacant brought Trew back to Franconia in 1720. He did not succeed in his bid to become Heister's successor but as an established doctor, the 25 year old was soon admitted to the Collegium medicinale in Nürnberg which was both a medical society and the town medical authority. From then on he continually increased his medical reputation as well as his income. This is illustrated by the fact that he was promoted to court physician in Ansbach in 1736 although he was not prepared to move his place of residence from Nürnberg. Here, as well as running his practice, he supervised the town's herbarium and the anatomical theatre. For the hortus medicus he collected material on botanical excursions and he enriched the theatrum anatomicum with high quality specimens. He was also one of the first anatomists at all who did demonstrations with human corpses (which was then highly controversial), and pursued fundamental research on the structure of the body. The aim that he was following is demonstrated by his – only partially realised – major project of an illustrated text book for osteology. It was not written just for experts but – in the sense of the early enlightenment and its physico-theological praise of the Creator – for everybody.
Pan-European Network of Scientists
In general, research developed into Trew's actual field of interest. He increasingly dedicated himself to it alongside his medical practice. He maintained his European contacts and his overview of the discoveries and discussions of the age by establishing the Commercium litterarium ad rei medicinae et scientiae naturalis, networker avant la lettre edited and published in this journal the ideas and notices of a large circle of expert correspondents. Trew was not a paradigmatic mastermind in his disciplines but the verifying and classifying collector of concrete knowledge which he wished to transmit reliably to others. Up till his death Trew was a member of many international academies and societies.
The immense correspondence, which went with his work as publisher and with his academy memberships served Trew as the object of his collection of letters but also as its means. Not only did he keep all of the letters that he received (as well as his own drafts) but he used his Pan-European network in order to investigate and acquire letters by third parties through intermediaries – single pieces as well as whole collections.
The Trew Letter Collection: A « Who's Who» of the Polymath Early Modern Period
This explains why the period covered by Trew's collection starts 170 years before his own birth. The oldest letter is dated 9 October 1524 and was written by the reformer Huldrych Zwingli to a priest. Trew himself confirms for Zwingli and the other 2,100 authors that «their own handwriting alone is of great value, but even more so the content of the letters» . His «considerable collection of hand-written letters by Italians, Englishmen, Dutchmen, Petersburgers, Prussians and Germans from the XVI., XVII. and XVIII. century, which together number more than 15,000» grew to over 19,000 by the end. A «Who's Who» of the polymaths from the early modern period to the enlightenment. Especially prominent for example Johannes Crato von Crafftheim (1519 – 1585). From the pen of this star physician, who served three Habsburger Emperors as medical attendant(Ferdinand I, Maximillian II and Rudolf II) and who has remained prominent as the recorder of Luther's after-dinner speeches, Trew had collected no less than 1,271 letters. A colleague of Crato's at the court in Vienna was Carolus Clusius (Charles de l'Ecluse 1526 – 1609). The French physician is represented by about 200 letters. As imperial botanist he was a pioneer in the recording of Alpine and Hungarian flora. Finally, the Italian Ulisse Aldrovandi (1522 – 1605; 27 letters) and the Swiss Conrad Gesner (1516 – 1565; 11 letters) who established respectively the botanical gardens in Bologna and Zürich set standards in zoology, each of them with a heavy work entitled «Historia animalium».
One third of the at least 4,800 letters addressed to Trew himself were written by laymen, the other two thirds by medical experts: Apothecaries (3 percent), surgeons (4 percent), professors of medicine (14 percent) and qualified physicians (47 percent). Amongst them is Trew's teacher and almost predecessor Lorenz Heister (1683 – 1758) the founder of scientific surgery in Germany. He is represented by 168 letters written by himself and many more he had received. Trew had planned to publish a selection in his own lifetime. He wrote in 1725 to Albrecht von Haller (1708 – 1777), who had edited more than one thousand letters addressed to himself, that he would love to make several thousand letters of prominent physicians and botanist «available to the public, without cost». Trew never realised this project but his statement shows how much he valued his scholarly letters.
Scholarly Disputes and Letters from the Landlord
It can be assumed that Trew's planned edition would have been very different to the one presented here, which contains the complete collection. Trew would have certainly edited the letters (as did Haller) in terms of the relevance of the scientific content so that today they would have been purely relevant to the history of the disciplines. There would have been no place at all for all the friendly inquiries, the attacks on colleagues or any of the statements about everyday life, which make the modern edition an important source for the personal history and the research into individual lives and working conditions of the European Republic of Scholars in the early enlightenment. Beyond that the uncensored collection also contains documents whose writers are not experts but patients seeking advice as well as «women renting rooms, landlords, university beadles, […] tradesmen and others» (Eleonore Schmidt-Herrling). So the immeasurable significance of this treasure for the history of science is complemented by some everyday history.
The Catalogue of the Trew Letter Collection
The task of cataloguing the complete Trew Letter Collection was taken on by the Librarian Eleonore Schmidt-Herrling of the University Library Erlangen-Nürnberg between 1929 and 1940. Her 776 page catalogue Die Briefsammlung des Nürnberger Arztes Ch. J. Trew in der Universitätsbibliothek Erlangen (PDF-File, 33 MB) indexes the complete collection both by addressee and addresser.
Our Licenses. An Overview
| | | | | | |
| --- | --- | --- | --- | --- | --- |
| Workstation license (1)* | 1 | IP Access | für 10 Jahre | no | no |
| Workstation license (2-10)* | 2-10 | IP Access | für 10 Jahre | no | no |
| Standard license | ∞ | Remote Access | 10 years | yes | yes |
*The new Workstation License options were especially designed for smaller research institutions. Both of them offer unrestricted access to the complete content of the database. PDF expire six weeks after download, but there are no restrictions for repeated or multiple simultanous downloads of documents.