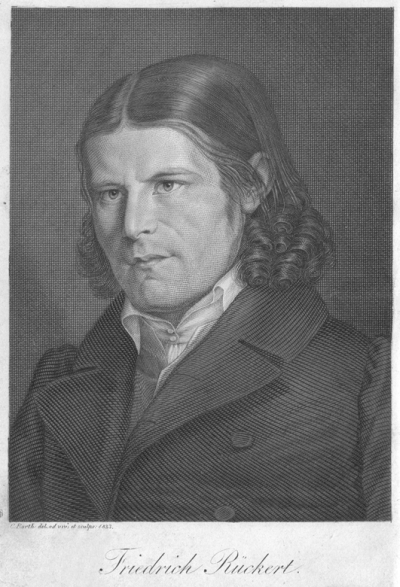 The Friedrich-Rückert-Autographs in the Schweinfurt Town Archives
ca. 23,640 sheets with Catalogue and MARC21 records
Online Edition
2012, ISBN 978-3-89131-527-9
Purchase: EUR 3,500.– (excl. VAT) / EUR 4,165.– (incl. VAT)
Annual License: EUR 350.– (excl. VAT) / EUR 416.50 (incl. VAT)
Access to Online Edition
Mikrofiche Edition
304 microfiches, 2008, ISBN 978-3-89131-502-6
Silver positive: EUR 3,500.– (excl. VAT) / EUR 4,165.– (incl. VAT)
For many of his contemporaries Friedrich Rückert (1788–1866) was the most eminent German language poet. Today a wider audience knows him, above all, through the setting to music of his «Kindertodtenlieder» by Gustav Mahler. His merits as a scholar and translator, including «masterly adaptations of middle and far eastern poems» (Annemarie Schimmel) are, along with his Quran translation, predominantly honored in the academic world.
The Rückert Collection in the Schweinfurt Town Archives contains 22,000 manuscripts as well as 547 of his letters and records of his life such as publishers' contracts and documents. The sheer mass of this material is overwhelming. It includes about 5,500 poems and numerous notes, for example on the various languages that Rückert studied, as well as the transcripts of complete works such as the Quran translation or the dramas. A classification of the sources into literary genre is hardly possible because the reciprocal interdependencies are very narrow: poetical translations, adaptations, language studies and his own poems flow into each other without boundaries.
The majority of the Rückert autographs in the Schweinfurt Town Archives have not yet been subjected to academic editing. In view of the scope and the complexity of the sources international scholars around the world are presented with a task that will occupy them for many years to come. The microfiche edition, and the digitization of these sources offer a fundament for the academic editing of the holdings especially as many of the originals – often loose sheets written in pencil and on the verge of disintegrating – should no longer be handled.
A 300-page catalog, published by the Schweinfurt Town Archives in the 1990s, describes the individual elements of Rückert's literary legacy. It is provided with the microfiches and will add advanced research information to the detailed search options of the Download Service to this collection.