From the Baroque Library Nünning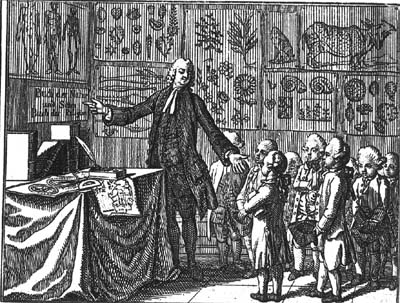 Collection of rare Works on Cultural History
202 prints with 36,751 pages
Mikrofiche Edition
510 microfiches, 2001, ISBN 3-89131-376-4
Diazo (negative): EUR 2,850.– / Silver (negative): EUR 3,420.–
Catalogue (PDF)
Mikrofiche Edition of rare works on cultural history
Nünning's baroque library belongs to one of the most significant private book collections in northern Germany. It holds more than 9,000 titles centering around the private collection of the scholar and historiographer Jodokus Hermann Nünning. During the last few years, a thorough cataloging of the both beautiful and academically valuable collection was carried out by the Abteilung für Historische Bestände in Westfalen, Universitäts- und Landesbibliothek Münster. This project was made possible by the support of the Deutsche Forschungsgemeinschaft - an indication for the appreciation of the collection on the part of academics.
The scholar Jodokus Hermann Nünning
Jodokus Hermann Nünning, born in 1675, was the son of the count and judge Heinrich Nünning of Schüttorf. Apparently because of his poor health as a child, his parents decided to have him educated at home by a Jesuit. Endowed with an excellent knowledge of Latin, he afterwards studied law at the Münster Academy and at a school for higher education in Steinfurt. He then went on to the the university in Protestant Helmstedt where he stayed for two years before - financially independent due to his well-off parents - he was able to devote himself to fine arts while taking a long trip through Europe. After having spent five years in Italy and France (where he managed to acquire an extensive knowledge of classical numismatics), Belgium and the Netherlands, and after having obtained his doctorate in the study of law, he returned back to Schüttorf, intenting to settle down as a lawyer in Münster a short time thereafter. The fruits of his unusually long educational trip become clear when one reads the following:
«Besides the command of the Italian, French and Dutch language in which - aside from Latin and German - he was able to correspond and, from time to time, to take notes in his diary, it [the trip] stimulated and developed his academic vigor for the antiquities, for books, manuscripts, coins, archeology, documents, seals, and, up to a point, even for science.»
Very soon Nünning discovered that the practical profession as a lawyer did not suit him and he decided to take yet another educational trip. Starting in Vienna, he went on to Preßburg and Raab, then to Nuremberg, Dresden, and Berlin. After having attended lectures at the faculties of history and law in Frankfurt/Oder he went to Minden where he was granted a canonicate which, however, he left shortly after having visited the locality. Having returned back to Schüttorf in 1705, he was supposed to accept a position as a judge. However, he declined and left it to his younger brother since he had decided for good to become a clergy. In 1706 he entered the convent Vreden where his situation as superior allowed him to receive a benefice and also the then vacant position as a scholastic. Nünning later took it upon himself to administer the convent's archive and, three years later, was put in charge of the archive of the city of Borken. Due to his excellent work he was appointed to the parish council in 1743.
While pursuing his studies he mainly stayed at his countryseat Wieckinghoff near Borken, a place he himself called «Tusculum Nunningiorum». He was chiefly interested in local topics and in the topography of the Münsterland. He managed to build up a reputation as an excellent expert on the local history of Westfalen which Nünning, for the first time, methodologically based on the analysis of non-written sources. His archeological treatsy Sepulcretum Westphalico-Mimigardico-Gentile (published in 1713) for instance deals with funeral rituals in the area of Westfalen. He based this paper, which was translated into German in 1855, on insides he gained while analysing numerous urns and tombs.
Nünning's life is also marked by intensive correspondences with numerous scholars and by his passion for numismatics. His extensive exchange of letters with book agents and booksellers plus the fact that he selectively purchased books from antiquarian catalogues prove his bibliophile inclinations. His old age Nünning spent at his countryseat Wieckinghoff where he died in 1753 at the age of 78.
Nünning's book collection
Nünning's library, which - according to his last will - was supposed to be made over to the then not yet established library of the Münster university, shows a distinct universality. The distribution of the languages the books are written in can be seen as one of the indications: 42 percent are in German, 46 percent in Latin, 6 percent in French, and considerable 6 percent in Dutch. In the end, Nünning was able to integrate more than 2,200 titles into his own catalogue. His collection focuses on historical and numismatical literature; the many juridical works must have belonged to his father's library. Since most of the books contain personal handwritten comments it is very likely that Nünning not only read all of them but - motivated by his academic urge - really worked through them. He also decorated them with his extravagantly designed ex libris which shows the motto »Dominus providebit« (The Lord takes precaution).
The collection: universality and specialism
The collection is as universal as its collector. It contains general literature as well as biographical (funeral sermons, letters, memoirs) and genealogical papers. History (including its subdisciplines numismatics, heraldry, diplomatics, chronology, and rhetoric) clearly stands out, also all literature about customs and traditions, religion, food and drink, fashion and courtesy, about magic and Freemansonry. Church history and canon law can doubtlessly be considered to have interested him in the theological field. The same is true for dogmatics and moral theology, political science and constitutional law. The collection also includes gardening, horsemanship, hunting, forestry, and fishing. His possession of books about the study of literature (rhetoric, poetics, stylistics), travel diaries, works about natural history, and copies of classics in Latin is comparably extensive.
The Microfiche Edition
The microfiche edition features rare works about cultural history because they present valuable insights for every researcher. This is especially true for scholars focusing on historical and ethnical matters. By doing this, this edition offers numerous printings worth being conserved and makes them available to the public. They focus on customs and traditions, on magic, cabalism on one hand and on biographies, funeral sermons (including biographical appendixes) and and genealogical literature.