Die Amtskalender der fränkischen Fürstentümer Ansbach und Bayreuth (1737 – 1801)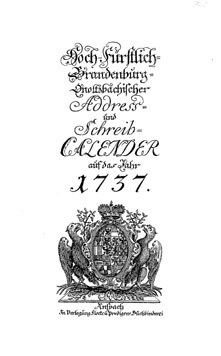 Hoch-Fürstlich Brandenburg-Onoltzbachischer Address- und Schreib-Calender (1737 – 1769)
HochFürstlich-Brandenburgisch-Culmbachischer ... Address- und Schreib-Calender (1738 – 1768)
Hochfürstlicher Brandenburg-Onolzbach- und Culmbachischer genealogischer Calender und Addresse-Buch (1770 – 1791)
Addreß-Buch für die Königlich-Preußischen Fürstenthümer Ansbach und Bayreuth bzw. Addreßhandbuch für die Fränkischen Fürstenthümer Ansbach und Bayreuth (1796 – 1801)
ed. by Rainer-Maria Kiel
21,100 pages on 193 microfiches
2000, ISBN 3-89131-360-8
Diazo (negative): EUR 980.– / Silver (negative): EUR 1,176.–
see also:
«Die Nürnbergischen Adress- und Schreibkalender (1705/06 – 1800)»
Territorial administrative calendars, which were established as a specific genre at the beginning of the 18th century, are an important source for every historian. Historical title-wordings, such as address, court, state or genealogical calendar, show that these calendars combined elements of folk and heraldic calendars, of genealogical periodicals, political works, municipal addressbooks, and of lists containing court and government officals.
The new genre not only contained the annual calendar itself but also informed about commuinication, about fairs and markets, measures and weights. It also gave information on European dynasties and the reigning houses of the different territories. Furthermore, these calendars contained information on the structure and personnel of the court, the government and its administrative body, the clergy, and the military of the respective territiories. Administrative calendars thus served traditional, courtly-ceremonial, and statistical purposes. Initiated and supported by the state, they very soon gained semi-official character.
As literature for a daily use the calendars were subject to an immense wear and tear. Libraries acknowledged them as collectibles only very late. Complete series are therefore extremely rare.
Neither archives nor libraries possess a single complete edition. However, thanks to the collaboration of six institutes (namely the Ansbach State Library, the Bayreuth University Library, the Saxonian National Library of Dresden, Erlangen University Library, the National Archive Nuremberg, and the Historischer Verein für Oberfranken ), the administrative calendars of the Frankonian principalities Ansbach and Bayreuth can here, for the first time, be presented completely.
The Microfiche edition combines the territorial administrative calendars of the Markgrafentum Brandenburg-Ansbach (1737 – 1769; the annual volumes 1758 and 1759 were apparently never published) and the Markgraftum Brandenburg-Kulmbach (respectively Brandenburg-Bayreuth; 1738 – 1768). After the death of the last Markgraf of Bayreuth (in 1769) both prinicpalities were reigned by the Markgraf of Ansbach, Karl Alexander, until he resigned and left them to the Prussian royal house. From 1769 on, due to political changes, administrative calendars of Bayreuth were no longer published. Instead, the two principalities, which then were ruled by personal union, published their own calendar between 1770 and 1791. Under the Prussian reign this tradition was continued. However, the calendars no longer appeared on an annual basis. The assignment of both territories to Bavaria (Ansbach in 1805, Bayreuth in 1810) eventually ended the publishing of separate administrative calendars.
Dr. Rainer-Maria Kiel, Universitätsbibliothek Bayreuth